Death, Sex, and Taxes: Tax Season The EroCity Way
It has been said said numerous times that in life two events are unavoidable:
Death And Taxes?!
Well EroCity: Divine Right wants to let us in on a point not taken that the third event one can and should not avoid is Sex. And We mean sex, sex in all her lovely forms regardless to gender or type and style. So while Tax Season is approaching a close for those who file on time such as by April 17th, maybe your Febuary Love life may be under stress or heading for a perk, or maybe you may want to take a break and pop in a video, that can release the tension and allow you to see the tax man/woman get fucked for a change? Well regardless to your taste or your fiscal position, We have reviewed a XXX video that may just release the swell in your pocket in the most pleasurable way. The Movie is "
Tied and Taxed
" a 2003 release from
California Star
Studios starring
Francesca Le
;
Coral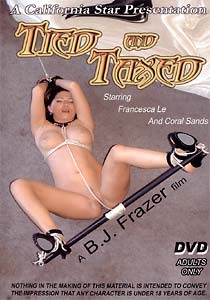 Coral talks Francesca Le into a bondage session as payment for her taxes. Coral eagerly ties her into several positions, the last tie leaving her nude and vulnerable. When Coral's boss calls her, she learns that she has gone to the wrong house...
Now maybe your tax personnel may not have the sex appeal oosing out of the best orrifice like Coral, however the use of ones imagination feuled by the positive chrage of sex energy may allow you this Weekend to Get 'Er Done. Plus, if that title doesn't do it for you than We also found this lovely
Classic
re-released in 2005 "
Chop Stix "
: When a young girl inherits a mansion from a mysterious benefactor, she also inherits a $25,000 debt in back taxes. With only a rusty old catering truck to her credit, she goes to her aunt, who runs the city's most prestigious whorehouse to borrow some girls. Serving up a sexy fare of delicacies both culinary and carnal, she makes enough money to pay off the taxes before the estate's lawyer runs off with everything. She celebrates her success with an outrageous orgy at her new restaurant "Chopstix Manor."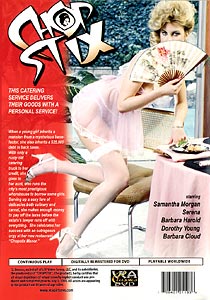 Starring:
Samantha Morgan
,
Serena
,
Barbara Harold
,
Dorothy Young
,
Barbara Cloud
Form No one else than
VCA Classics
. You can follow these links right to the best place to shop for that relief and a great way to use that earn income credit; an investment in your pleasure. Courtesy your hard work and the Good ole Tax Man/Woman which ever you prefer!